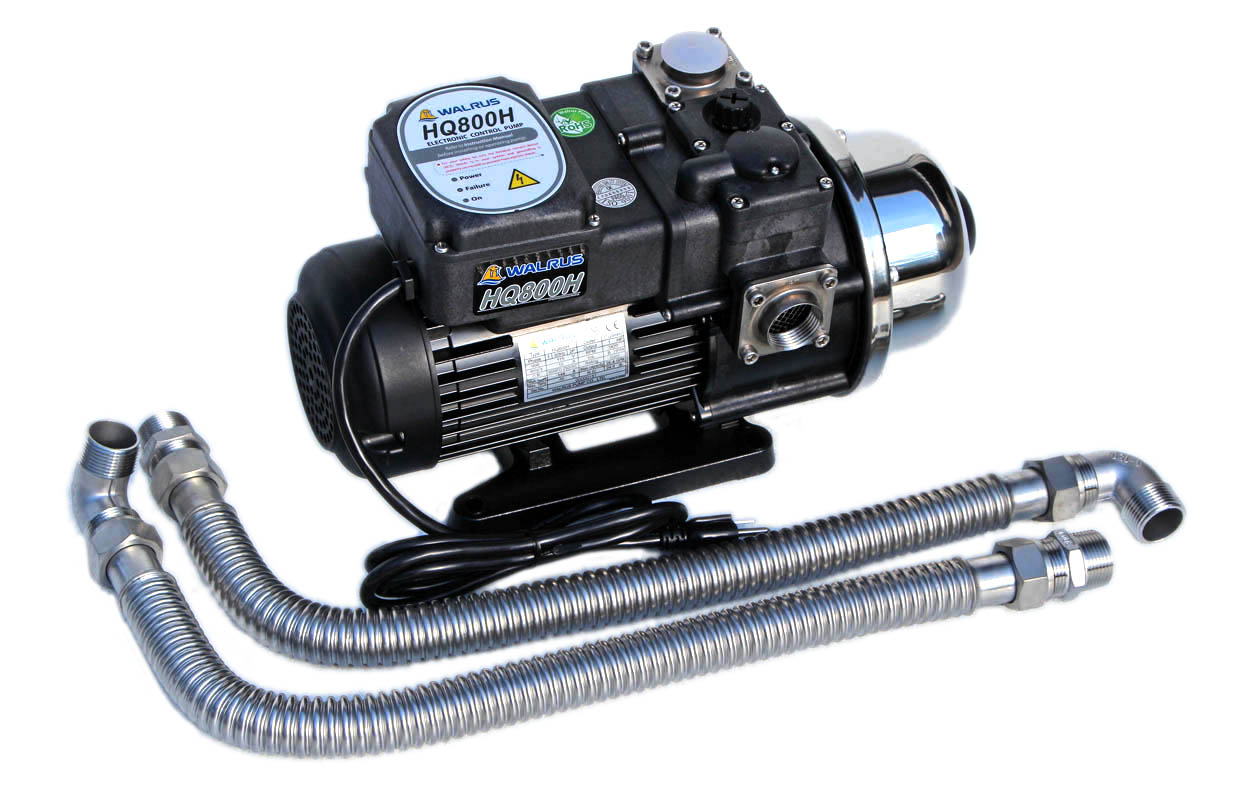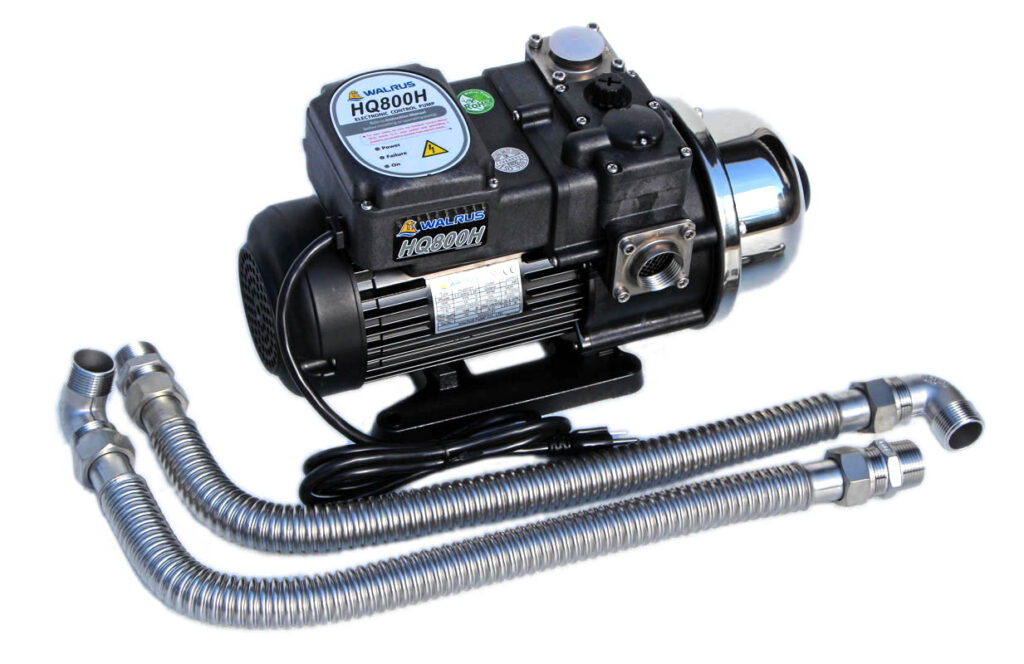 Options/ Prices:
Walrus Pump HQ800H 1hp   $519
SS Flexible  1″ x 18″ connector, 1″ M-M Elbow, 1″ hex nipple      $28
Item Description:
Walrus Pump: When we are not so lucky to have all the natural force of gravity helping us move the rainwater we have collected, we need a pump. Like a heart it must be strong and reliable. There are many pump options, but as we do with all our rainwater collection products and supplies, we focus on the best and top quality. Sustainability also means having the power to maintain the longevity of a total rainwater collection system. Walrus pumps are this, Strong and reliable.
Walrus Pump HQ800H 1hp: You can rely on the Walrus Pump HQ800H 1hp to quietly deliver constant pressure to get your water to you throughout your system. It also has an electronic sensor that stops the pump from using energy when no water is being used, saving both energy and money. The pump itself is made of non-corrosive material and features a thermal overload built in that prevents overheating from usage or extreme external temperatures – good for Texas!). Finally, should a part ever break, you can easily have it repaired at the Walrus Pump repair center in Texas.
Item Features:
Pump with build-in pressure tank and electronic controller
Automatically turn on-and-off by water demand
Stainless steel impellers
Dry run & cycling protection
LED lights will display pump working conditions and diagnose problems
1. The HQ is a complete, all-in-one unit, consisting of pump, motor, pressure tank, and electronic controller. The built-in electronic controller ensures that the pump starts automatically when water is consumed and operates continuously until water is not required. It will also protect the pump when it is in faulty conditions.
2. Compact design and quiet operation make the HQ series suitable for many applications.
3. Impellers are constructed of stainless steel for greater durability.
4. The built-in indicator lights on top panel will display the pump's working condition and diagnosis.
5. Provide 2 different head designs for 1HP model: – HQ800 with standard head is ideal for boosting city water so that PRV is no more required. – HQ800H with higher head is ideal for tank system that require higher boost pressure.
6. The built-in protective functions will shut off the pump and automatically reset in case of: – Dry run – Excessive temperature – Rapid cycling – Dead head
7. Offer the new designed cast aluminum motor for higher efficiency and lower amperage draw.
Related Items:
SS Flex Connectors (Walrus Pump Accessories): Use these flexible connectors for an easy pump installation process that saves you the work (and the health risk) of multiple parts of PVC. For an even quicker connection process, consider the Camloc connector, which is equipped with a camlock fitting that allows you to instantly connect or disconnect the pump.